Hold on well at current situation, look back to the Hong Kong art market in last 10 years. The competition at auctions are fierce like battling, artists performance differently at market with both ups and downs. By the first half of 2020, the latest article "List of Hong Kong Top100 Artists' Index" is now published. ArtPro is going to use the data that we collected from the past 10 years to find the regular patterns behind market trends.
(Note: "List of Hong Kong Top100 Artists' Index" is a list of the top100 artists that we selected based on their total turnover in Hong Kong area, we calculated their index and ranked them by order.)

The art market in 2020 were concerned more than ever, not just because the pressure of this unexpected COVID-19 issue, it's also because of the global situation is far from optimistic. By using the big data as background, ArtPro presented this article "Market competition under Unusual times: Who soars up against the trend or falls downward with the trend?" from last week. As the article was published, draws extensive attention. Many users are interested and asked our customer services about the market trends report of artists and analysis of price index. Therefore, ArtPro is now presenting a series of five articles: "List of Hong Kong Top100 Artists' Index". These articles are going to show you the price index and other related information of artists. Now let's focusing on the Top81-100 and their market trends.
Top100: Rudolf Stingel: Price Index increasing within 10 years, last few years are stable.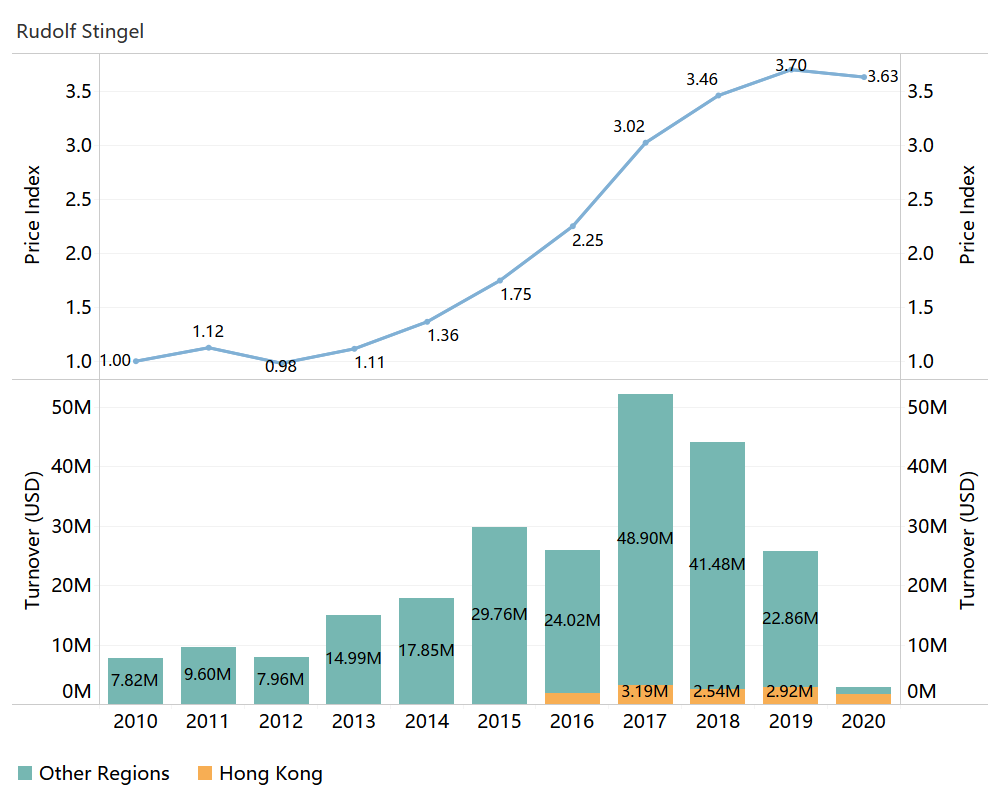 Top99: I Nyoman Masriadi: Price Index reached a peak at 2013, goes down after that in every year.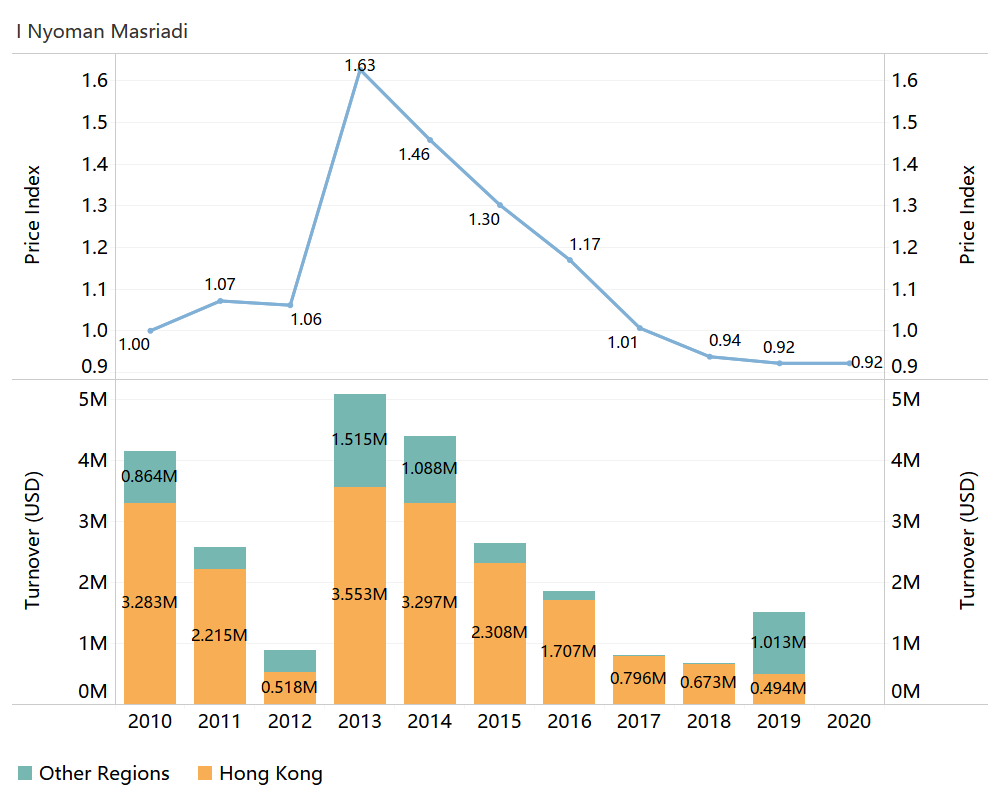 Top98: Hao Liang: Art market value is increasing in recent years, break his most expensive personal record in 2020.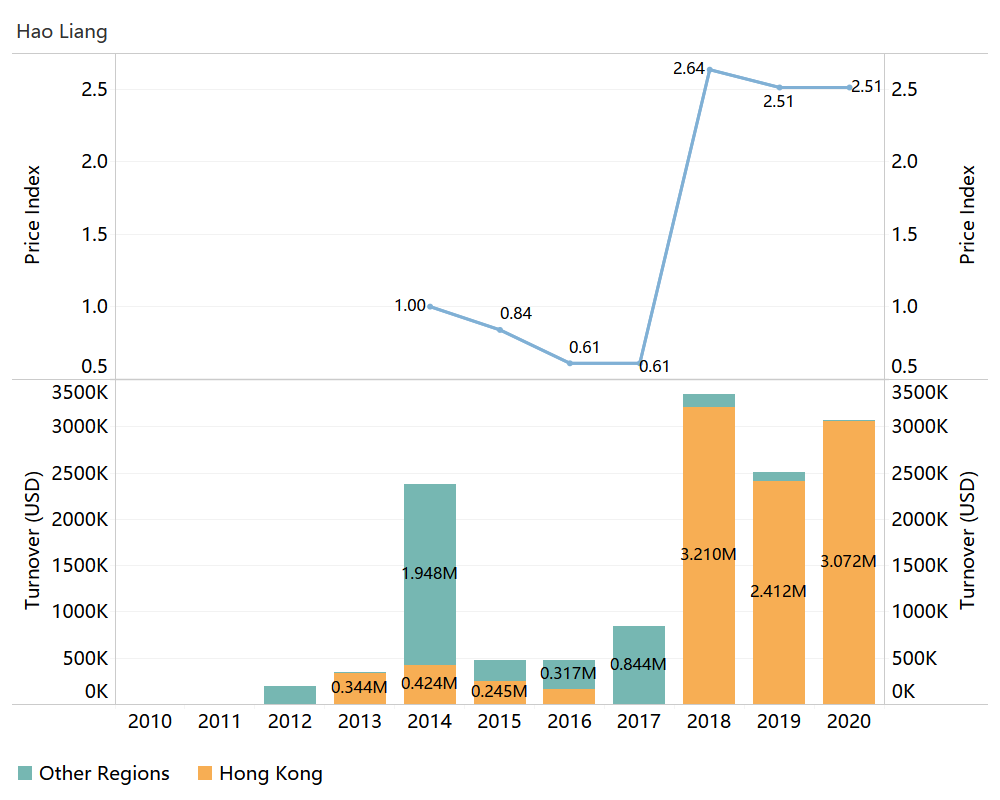 Top97: Liu Haisu: Less fluctuation within 10 years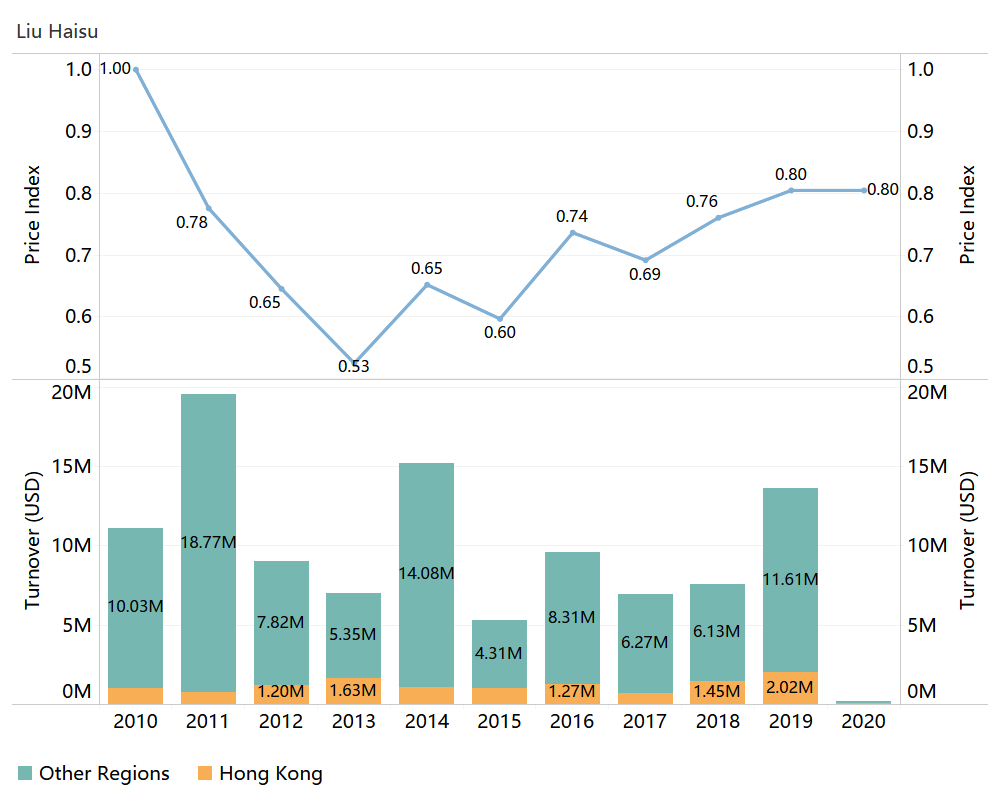 Top96: Liao Jichun: Price index decreasing in last 10 years, no work showed in auction at 2020 so far.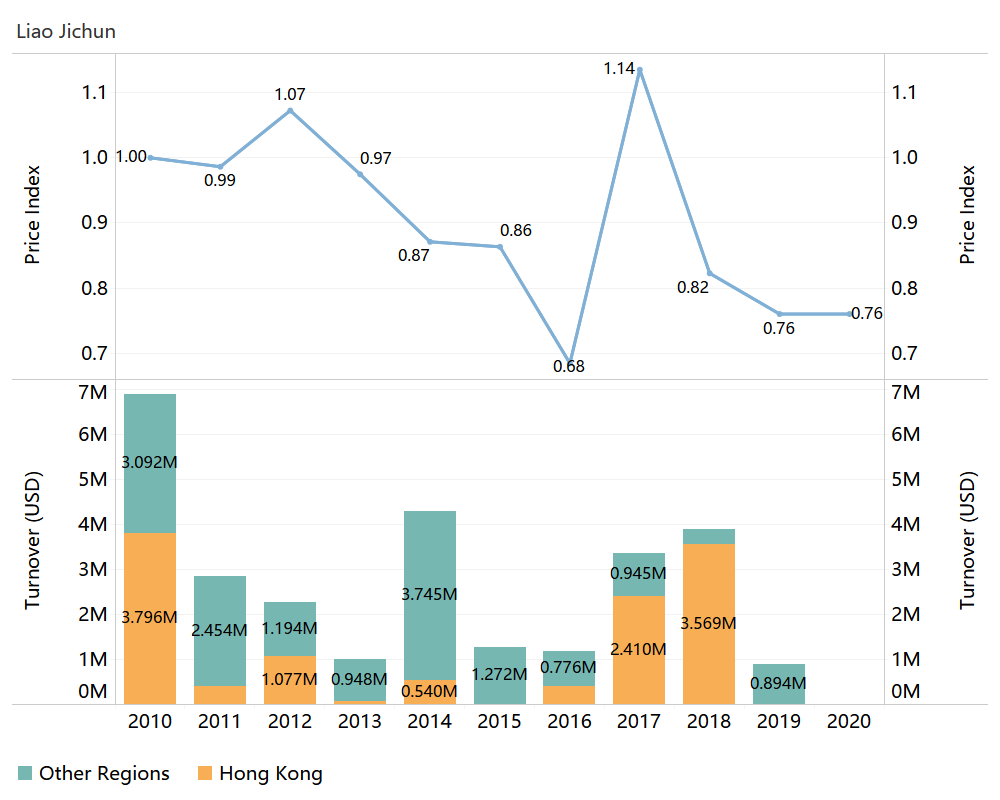 Top95: Fernando Zobe: 10 years market revolution, price index reached peak twice.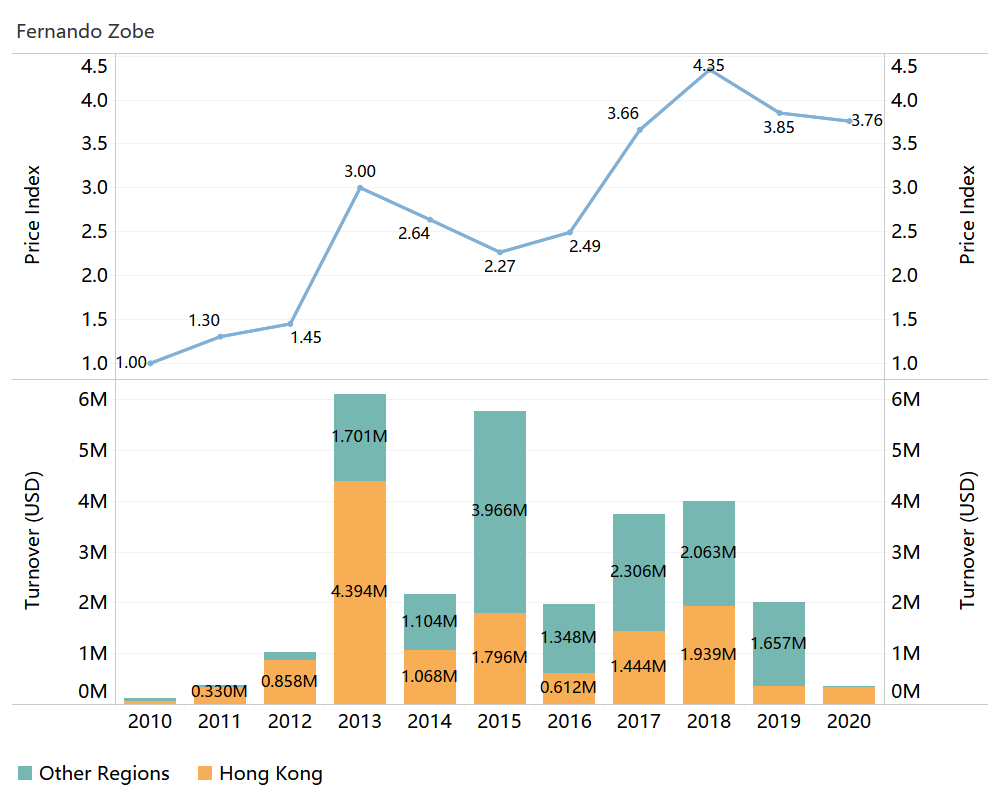 Top94: Fang Lijun: Chinese contemporary artists in difficulties, less popularity than before.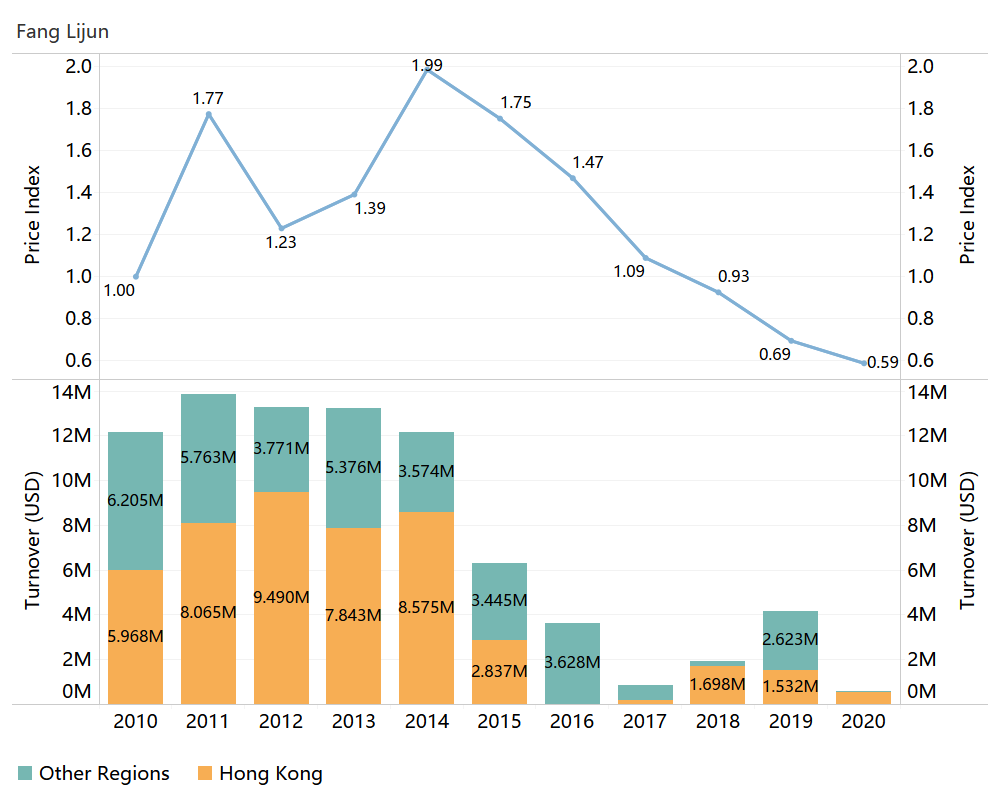 Top93: Anita Magsaysay-Ho: Reached her market peak at 2017, rarely sold anything in recent years.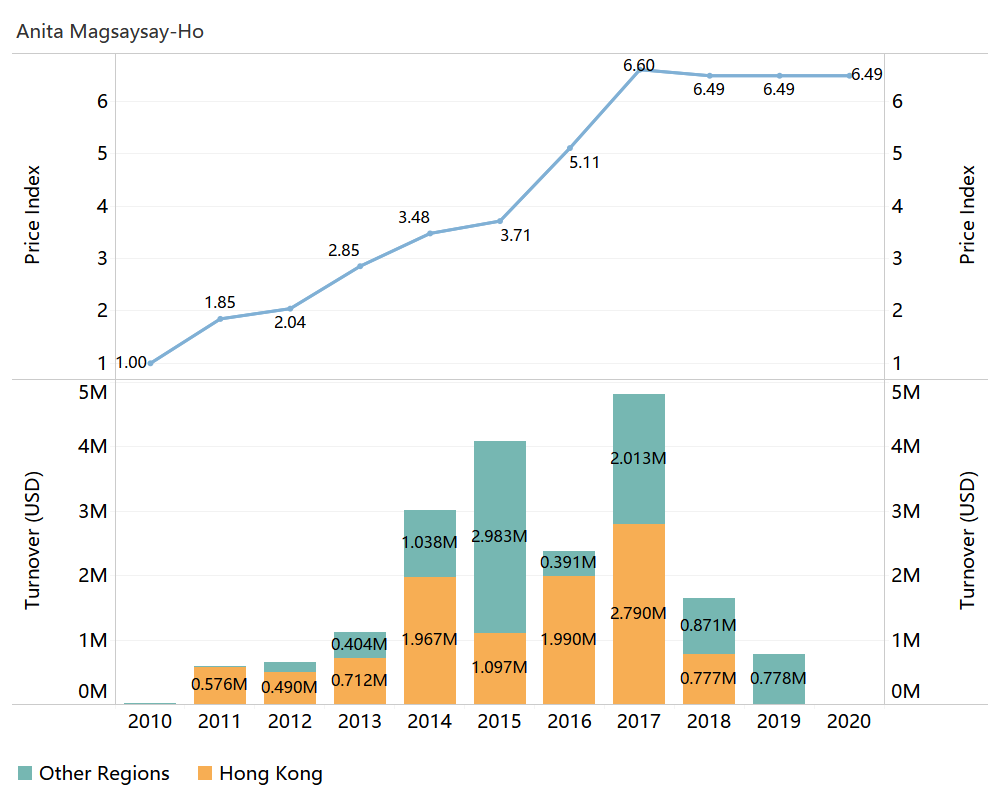 Top92: Chen Yinpi: After break personal record in 2015, price index fluctuates narrowly.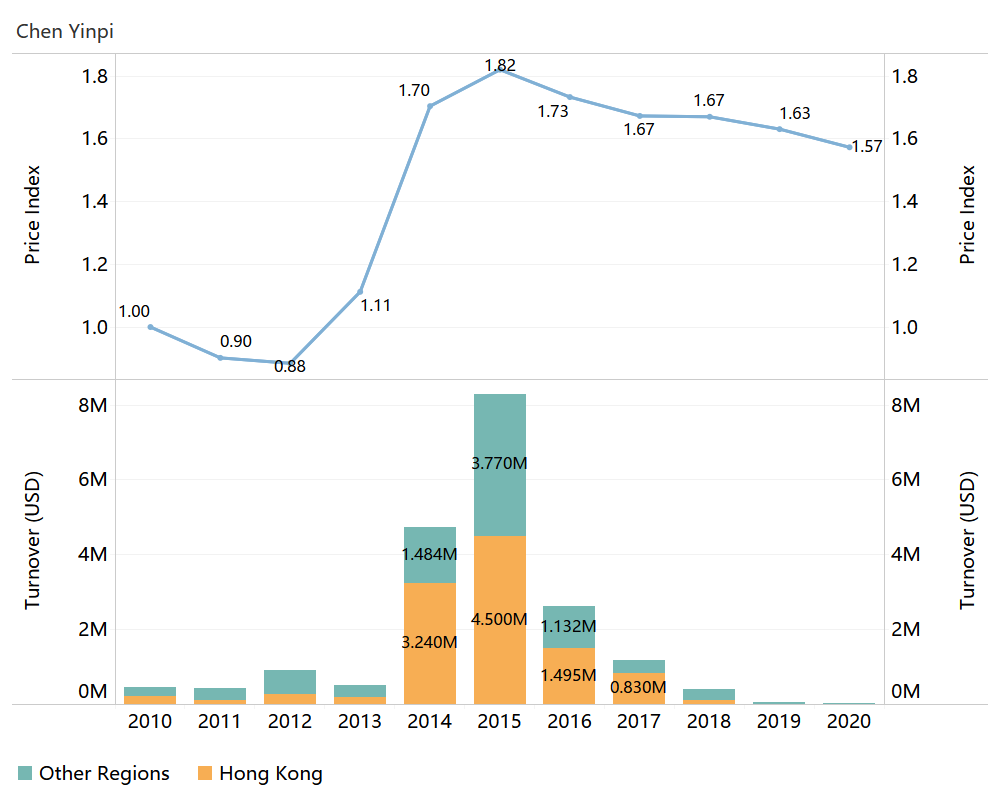 Top91: Cheng Shifa: Total turnover down trends in 10 years, price index had skyrocketing.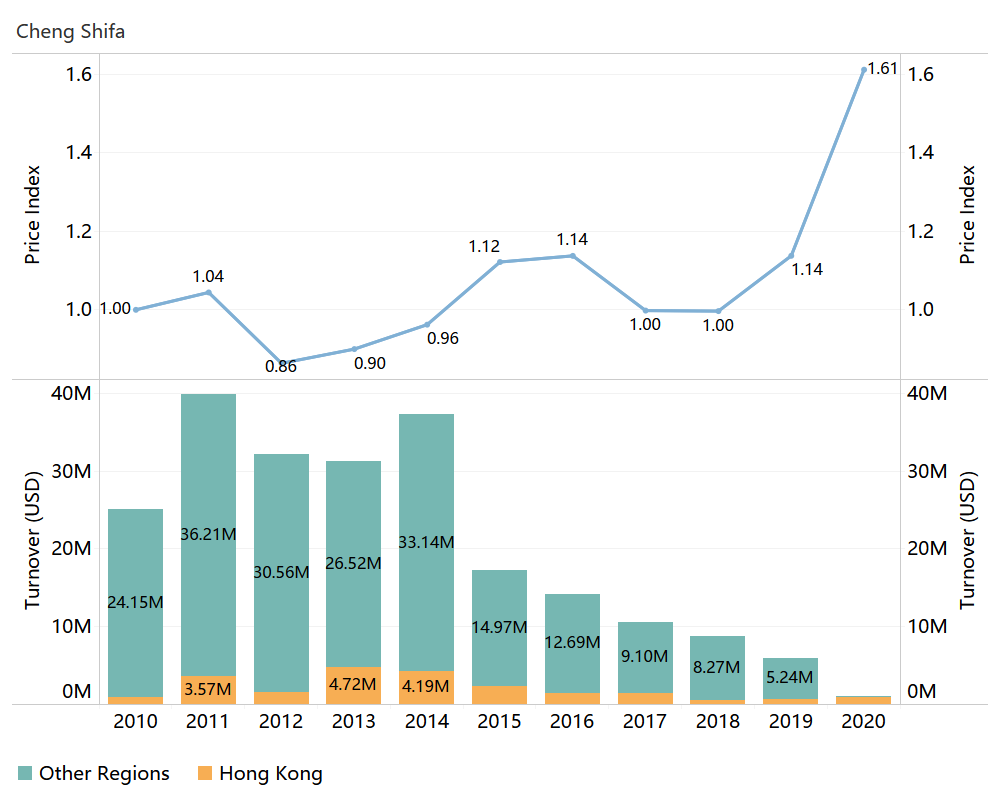 Top90: Sam Francis: Price index ups and downs within 10 years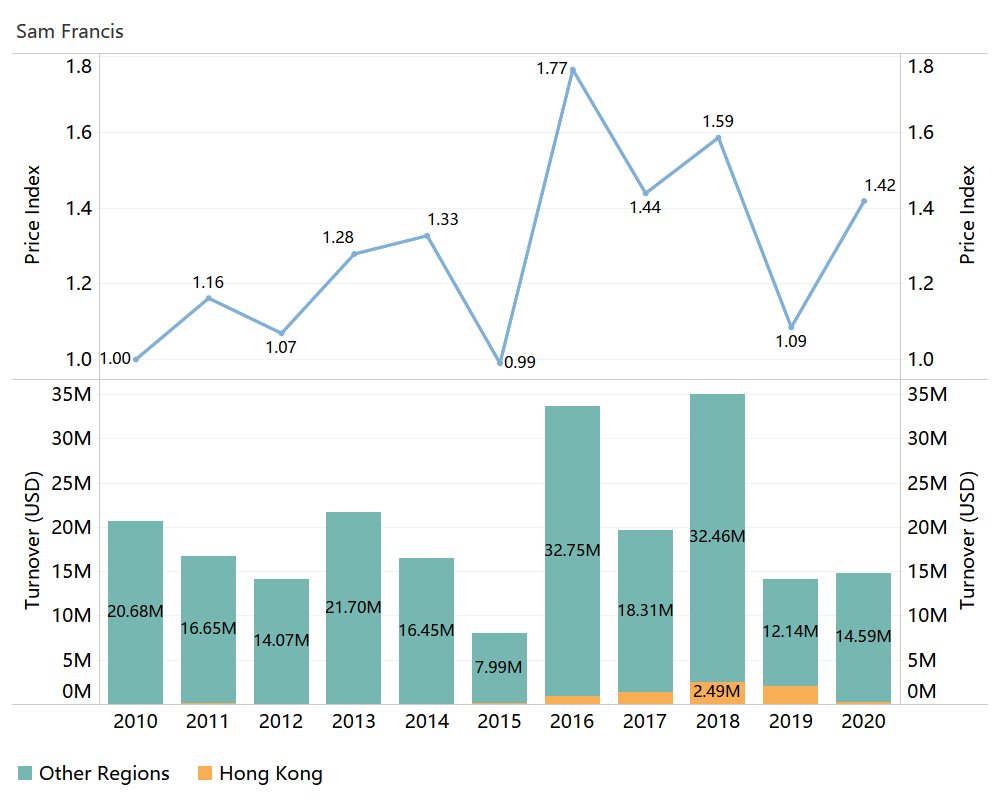 Top89: Guan Shanyue: Price index and total turnover goes up and down at the same time, still has out breaking potentials in latter 2020.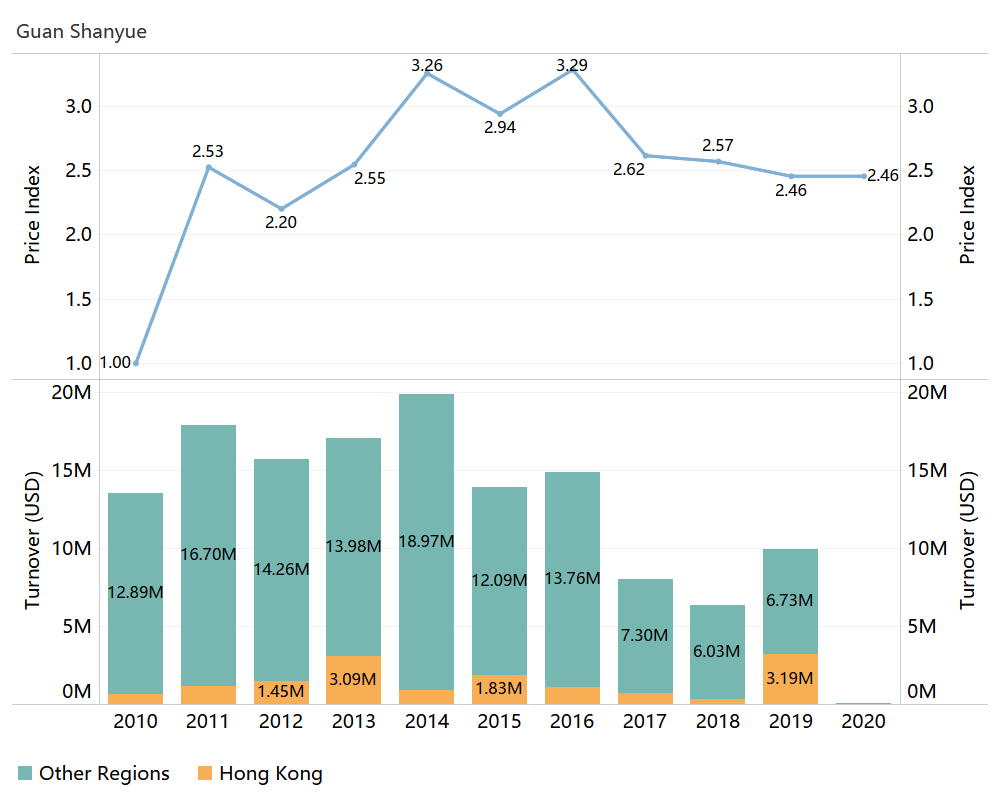 Top88: Shen Zhou: Price index stepping up in within 10 year, smooth transaction in 2020.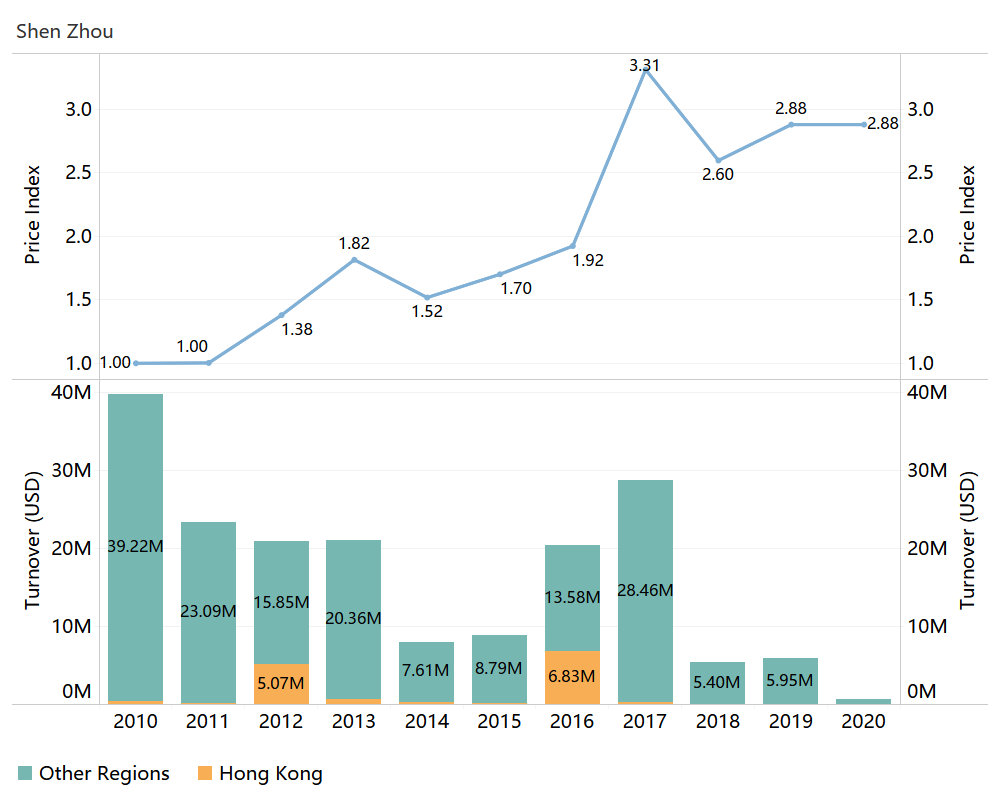 Top87: Joan Mitchell: Reached market peak in 2018, still increasing in 2020.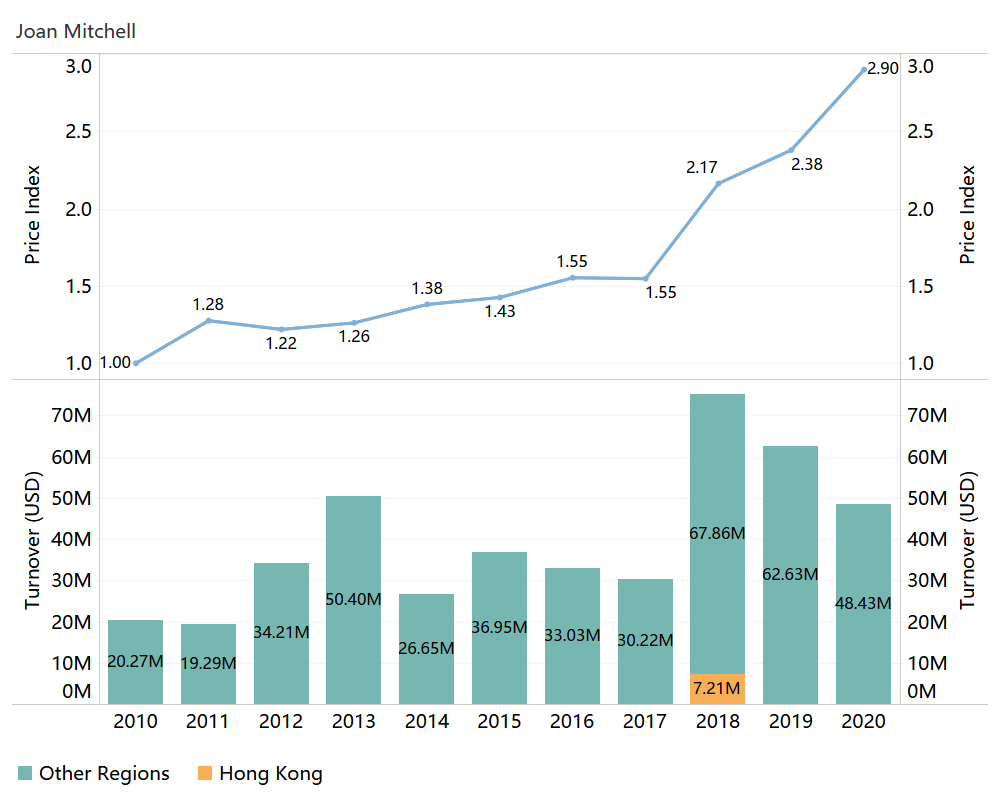 Top86: Liu Xiaodong: 3 summits over 10 years, market trend unstable.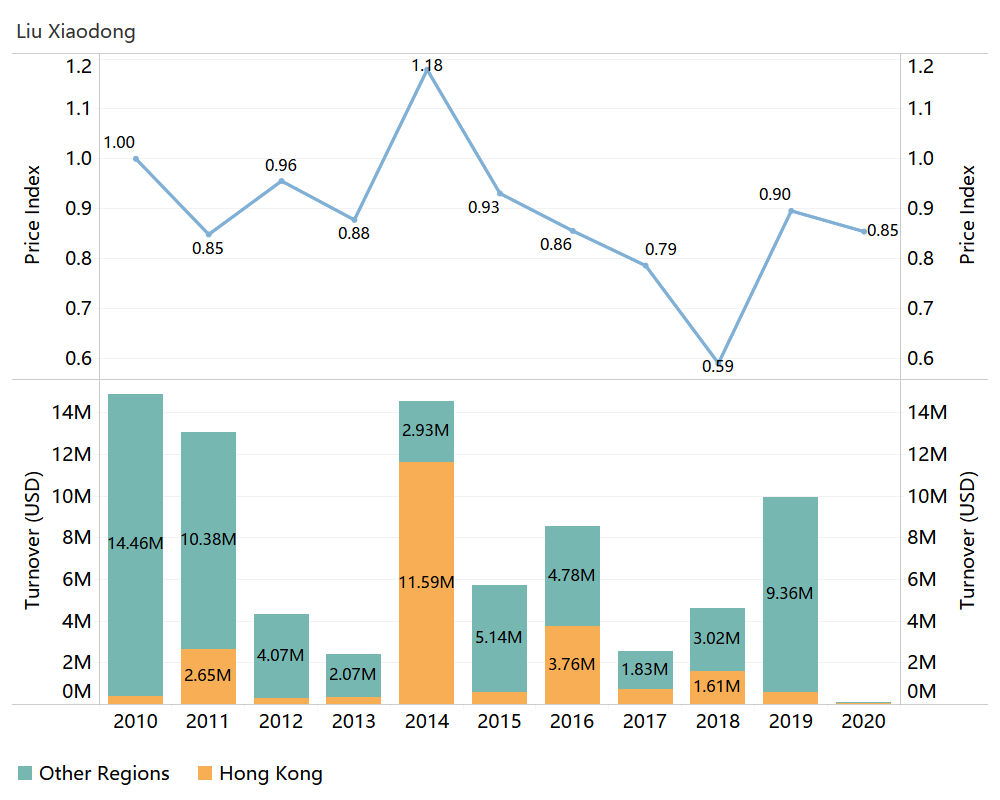 Top85: Zhang Enli: After reached the peak in 2016, price index goes downwards.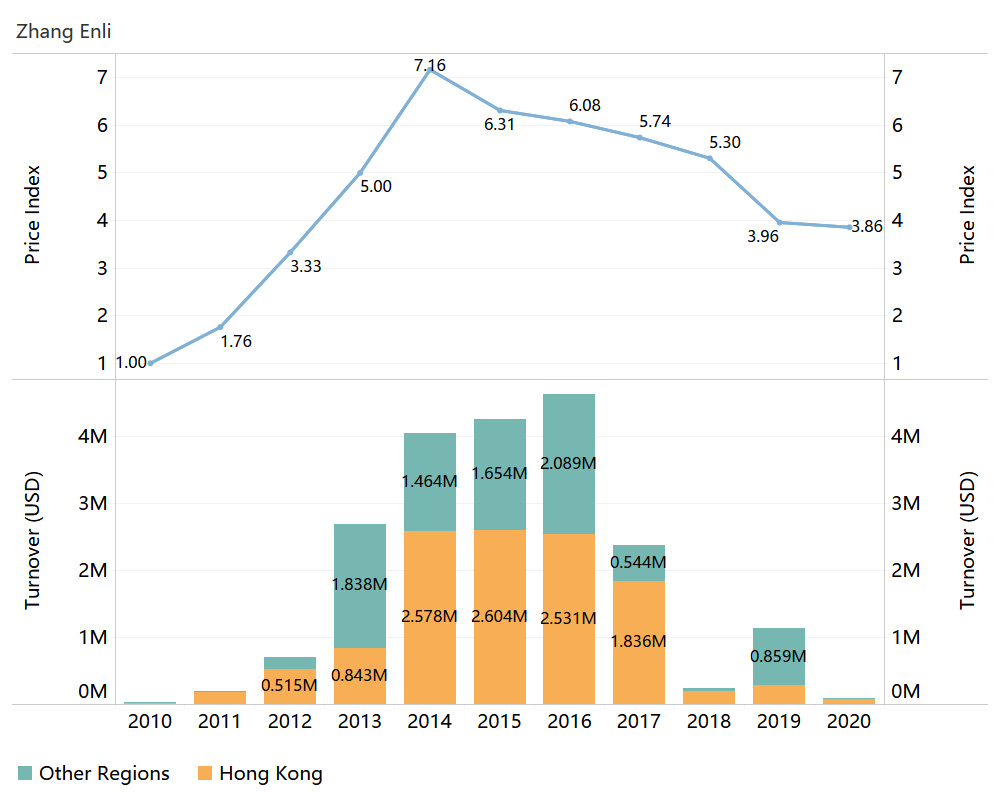 Top84: Eddie Martinez: Total turnover break his personal record again in first half of 2020.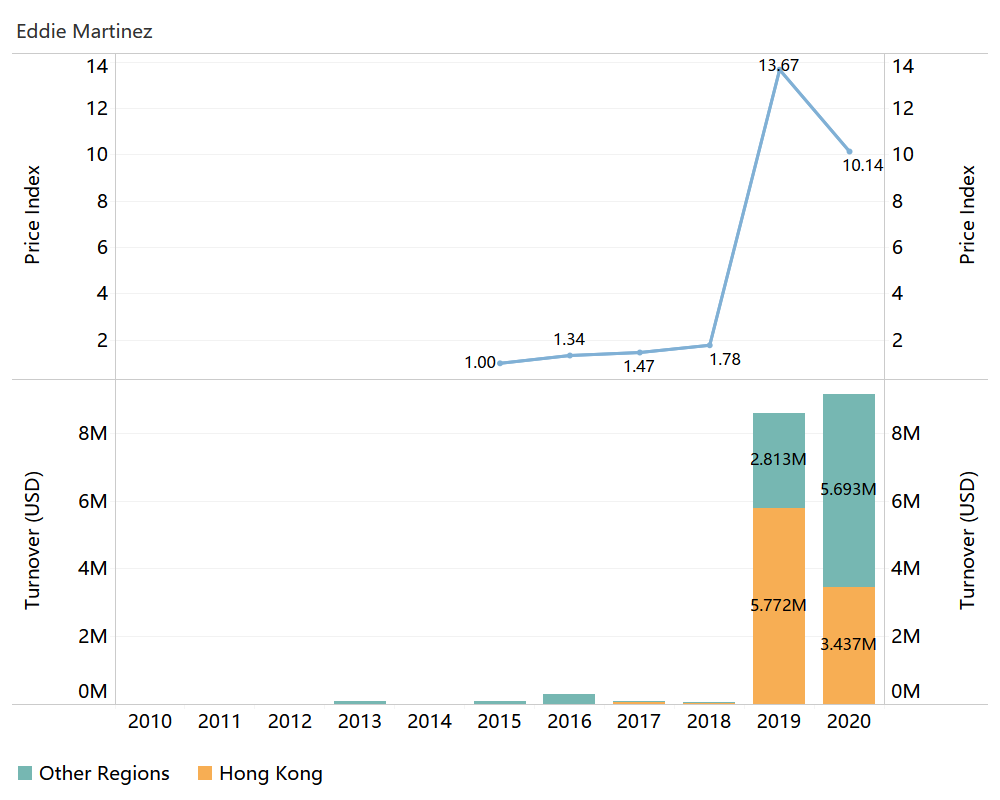 Top83: Shi Lu: Two summits of price index in 10 year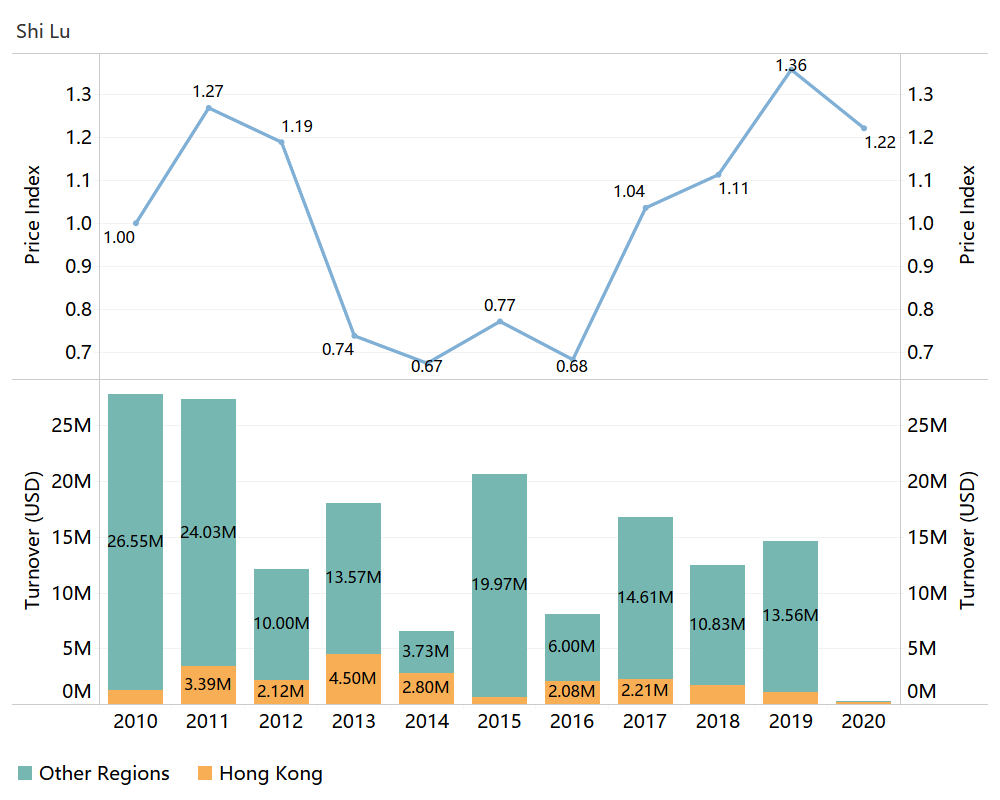 Top82: Sadamasa Motonaga: Upwarding followed by down trend within 10 year, price index goes up in 2020.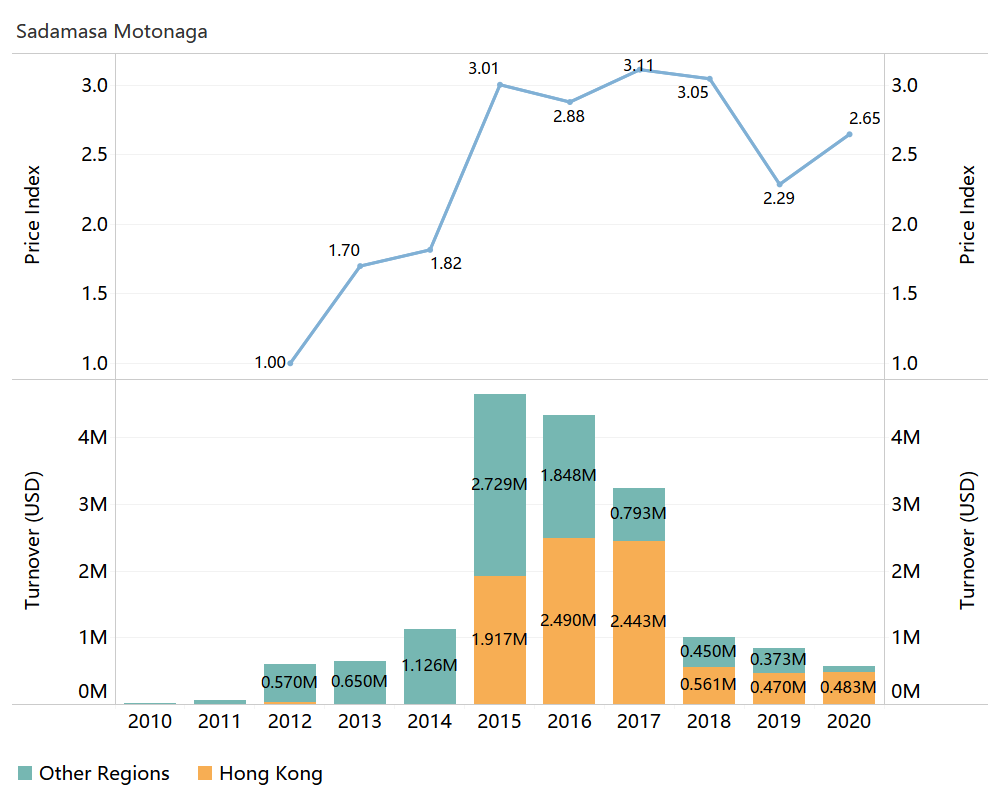 Top81: Zheng Banqiao: Price index fluctuated in last 10 years, very few lots in first half of 2020.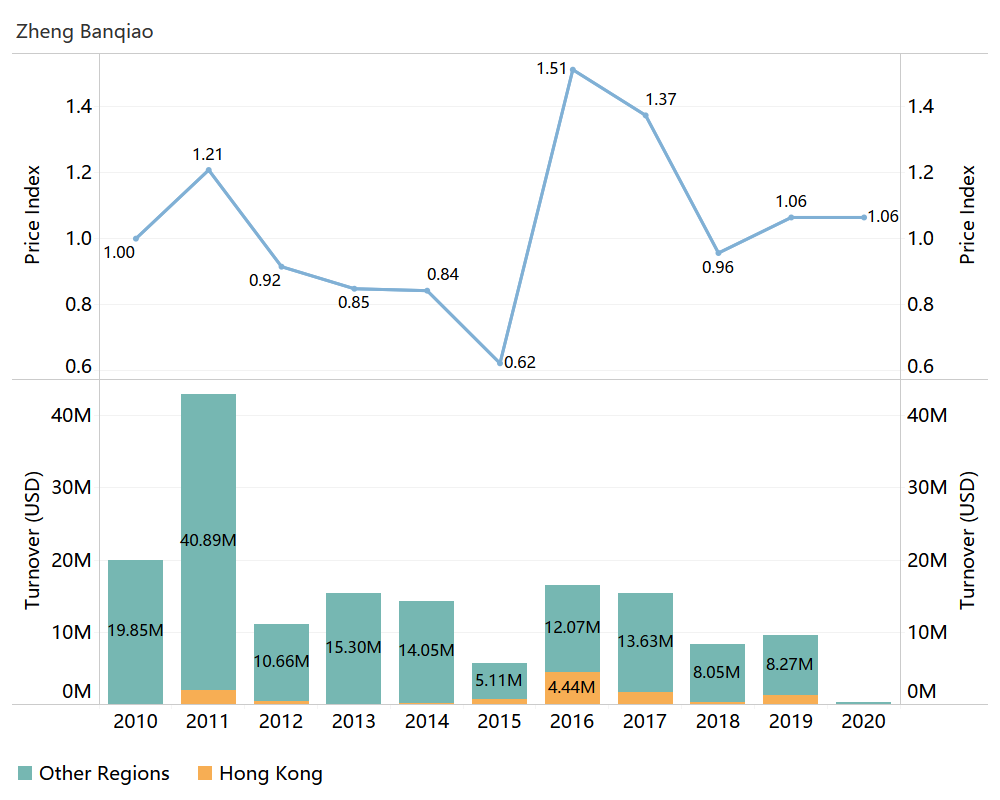 Conclusion: Time flies like an arrow, the market is constantly changing. Some artists are the key stands of the market with strong growth. Others perform steadily and increasing step by step, while some artists just gradually walk away from public sights. Under fierce competition, only the rational data can make you calm and keep you away from the impetuosity. We will continue update the series articles "List of Hong Kong Top100 Artists' Index". To acquire more data and reports of artists please contact our customer service.